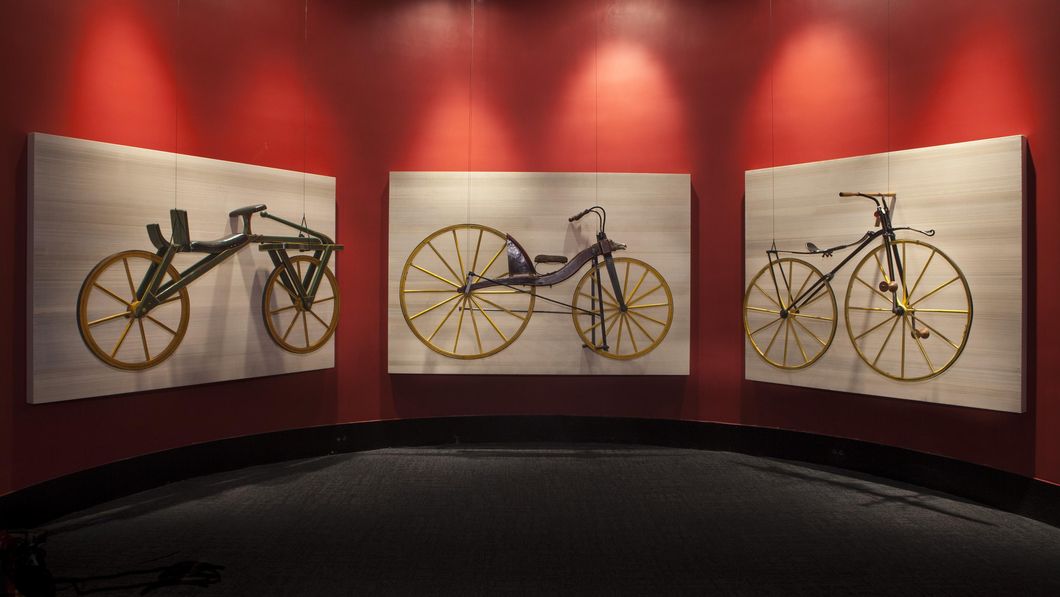 The Art of the Bicycle
Get geared up to see amazing bikes, past and present!

See some of the Museum's most fascinating–and rarely-exhibited–historic bicycles, juxtaposed with the coolest, fastest and most high-tech bikes currently on the market, in The Art of the Bicycle.

Invented 200 years ago, the bicycle has been continuously reshaped and re-engineered to make riding safer, more reliable, and more fun. The Art of the Bicycle traces this amazing evolution and shows how the bicycle continues to evolve driven by the inventiveness of its riders. This exhibit features nine newly restored artifacts from the Museum's permanent collection, five contemporary racing bikes, and 10 cutting-edge contemporary bikes.

From a replica of an 1818 Draisienne Walking Machine, invented by a German baron to traverse his garden; to a replica of an 1830 McMillan, one of the first pedal-operated bicycles; to a 1960s chrome and rocket-red Sears Spaceliner, these bikes all tell a remarkable story of creativity and human ingenuity.

Like the historic examples, the bikes in the contemporary gallery also illustrate how today's riders and inventors are pushing the boundaries of the bicycle. Learn about the latest trends, cutting-edge materials, and technologies used by elite athletes, urban riders and bike enthusiasts. See science's role in the design process; several of today's top bicycle companies are using defense-grade materials and working with former aeronautical and NASA engineers to create and test their products.